Quite a busy and draining day today. The usual morning chaos (what on earth is it with all that screeching and running and taking half an hour to change into clothes that the children do???) and then Troy drove Emma to school while the two little boys and I drove Nicholai to a different school to catch the bus to camp.
I can't believe he's old enough to go away on school camp! He's been so excited about it, even last year when he talked about going into the senior classroom he would talk about going away on camp. I'm not as stressed about it as I thought I'd be honestly. I really think he's going to have a great time. His teacher has talked with him about what he can expect and what plans he could have in place for any time he might start getting overwhelmed or feeling too worked up, and so I know that he's going to be able to have some downtime if he needs it. It also helps that he's going on camp up near where my sister lives and I've given her name and number to the teachers to keep with his emergency info, so that if it all falls apart and he wants to leave then she can go and pick him up. Not that I expect them to need that- he's going to come home on Friday exhausted (and probably wearing the same socks that he left in) and overstimulated, but with lots of tales to tell and a whole lot of pride that he did it.
I also have to say I can't believe how long it takes to load some grades 3 and 4 kids and their luggage into a bus!
Soren and Jericho and I went to the library after we'd finally waved Nicholai goodbye. It was actually a really nice library trip, Jericho selected five books without any drama at all and Soren actually managed to play with the lego alongside another child which is pretty good for him. Really, at the moment any trip/ activity/ fifteen minute time period that we get through without one or both of them screaming and carrying on is a good thing.
I had another appointment with Liz this afternoon. She gave me her card, so now I know that she's actually a senior social work clinician with the primary mental health team. Whatever that is. Anyway, that was an hour and a half of talking that was very hard and draining and left me with a giant headache, a pile of new information and a bunch of new questions and things to think about/look at/ investigate. I don't know. I'm in a pretty different emotional place than I was when I saw her last week, but it's still not a very good place. Getting there, getting there, I suppose I can just say that.
I'm going to go and look at the local daycare tomorrow, with a view to sending Soren one day a week. It seems like such a strange idea, but if it works out I think it could be good for both me and him.

Nicholai getting in the car with all his camp gear...aargh, such a big boy I have now!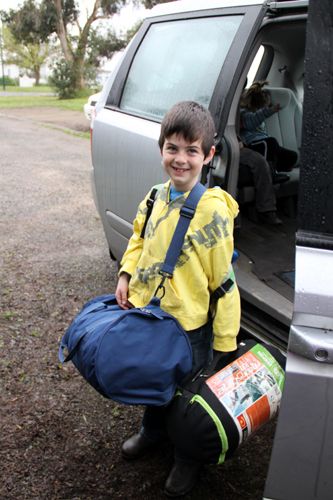 Current Mood:

stressed